Welcome
A cancer diagnosis turns a person's world upside down--emotionally, physically and financially. CancerCare® can help.
We provide telephone, online and face-to-face counseling, support groups, education, publications and financial and co-payment assistance. Professional oncology social workers offer personalized care, and all of our services are free of charge.
Explore our website to learn more, and call us at 800-813-HOPE (4673).
From Our Blog
Why Alex Rides for Team CancerCare

Alex came to CancerCare for support after her friend Jodie passed away from an aggressive form of breast cancer. Jodie had also used CancerCare's services while she was in hospice. "One of the things that was important to both of us was that CancerCare gave immediate support for people with cancer," Alex says.

Now, Alex is riding with Team CancerCare at the TD Five Boro Bike Tour to raise funds for others who turn to CancerCare for help.

(

Continue

)
Featured Program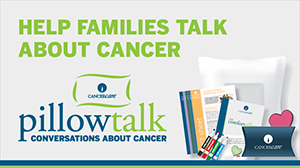 Quick Links